Interesting reading. Just not before bed or you'll have nightmares.
Activist Awake
June 3, 2012 | Guardian UK
In Charlie Skelton's latest, a surprise guest slips into Bilderberg, and gets a warm reception from the 'Golden Bullhorn'
Yesterday at 4pm a limousine with a police motorcade entered the rear entrance of the Bilderberg hotel. Heavy security, heavyweight politician. Let the guesses commence: was it Romney getting the green light for the presidency? Was it Hilary, nipping in to sign off on Iran?
4pm – time to freshen up, before a mix and mingle over cocktails, and a place at the top table for an extremely noisy dinner. The noise was courtesy of the Bilderberg bullhorn disco – an iTunes playlist, blasted out at the hotel.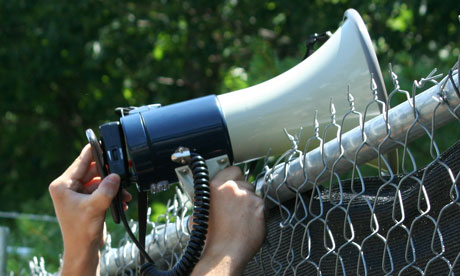 Money can't buy you quiet: the bullhorn soundtrack to Bilderberg 2012. Photograph: Hannah Borno for the Guardian
During cocktail hour, the delegates chatted amiably about Greek asset stripping to the tune of Killing In The Name by…
View original post 1,248 more words